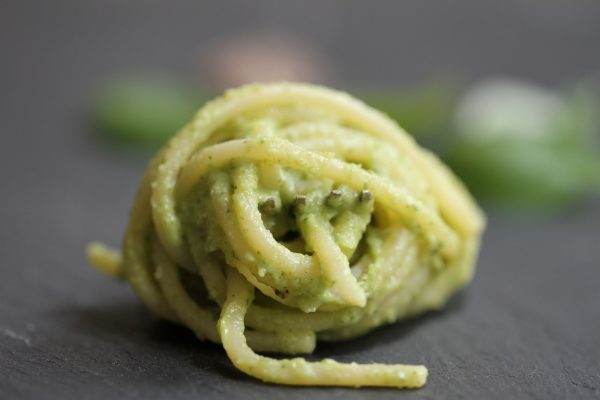 Pasta pesto makes me think of living in Hackney. Of taking the 55 bus home from work (because I couldn't afford the tube). It reminds me of getting off the bus early at Diss St, picking up pesto, pasta & chilled coronas at the corner shop and going to see two beautiful friends. Their flat always felt so much more grown up & together. Their jobs were more important and exciting.
Their nights out were what urban stories are made from. Whenever things were rocky in my own life, I would pile into their flat and we would eat pesto pasta, drink beer & try to widen my film knowledge.
What I would give for corona & chats with those two right now but I would make the pesto, because this version is even more delicious & also because it contains avocado which would amuse them both.
This sauce is good. Really really good. It's rich and creamy, but at the same time it isn't heavy. By switching out the usual oil for avocado you get a sauce which is packed with good fats, loaded with vitamin C and most importantly it sticks perfectly to pasta (or courgetti for that matter). The broccoli base doesn't mask the basil but adds an earthiness as well as packing in even more vegetables. There are no nuts in this but you could add in pine nuts or cashews if you wanted. There is also no salt, making it baby friendly, so salt your portion as needed. If your little one is just starting with pasta then use chopped vermicelli for spoon feeding or easy to pick up fusilli as finger food. If they aren't on pasta yet then you could easily let them just eat a spoonful of the pesto or stir it in with pureed potato. I imagine it is delicious too on toast topped with perfectly ripe tomatoes, or mixed with hummus a top a baked potato. It will keep in the fridge, in a sealed jar, for five days so enjoy experimenting with it. For the record, I recognise that this is hardly a pesto as the ingredients haven't been pounded together. It's also hardly a Genovese sauce as it doesn't contain hard cheese or pine nuts. But it is a creamy, basily sauce of deliciousness that takes minutes to create & will feed a family. Enjoy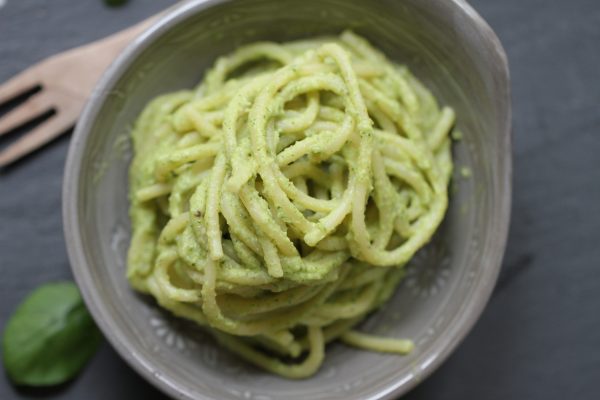 Ingredients (makes 6 servings)
1 head broccoli
1 ripe avocado
1 large handful basil
1 tbsp lemon juice
2 tbsp olive oil
1 tsp pepper (optional)
Method
Cut the broccoli into florets & boil until well cooked
Place into a food processor with all the other ingredients (avocado at the bottom)
Blend until you have a thick creamy sauce
Stir through cooked pasta
Enjoy

http://www.yolandanaturally.com/wp-content/uploads/2016/09/babypesto3.jpg
3456
5184
Yolanda Neumüller
http://www.yolandanaturally.com/wp-content/uploads/2017/06/Yolanda_New_2015-2.png
Yolanda Neumüller
2016-09-20 12:18:56
2017-07-13 10:38:34
Avocado and broccoli pesto