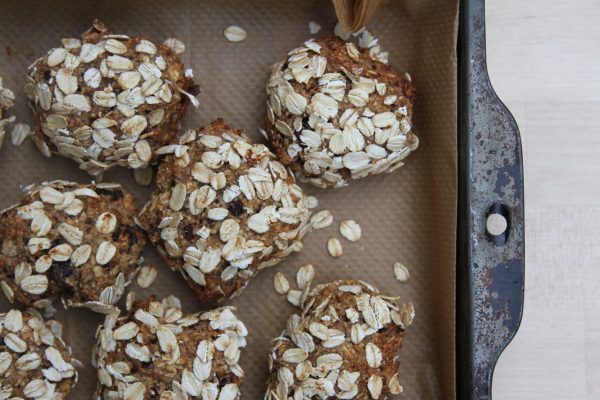 I would like to impart on my daughter my love of breakfast. It is without a doubt my favorite meal of the day. I can easily go with dinner but breakfast makes me happy. It doesn't have to be big, in fact a large well made coffee and a bowl of berries is perfection, but it does have to taste damn good. There are so many foods that just seem better at breakfast. Soft scrambled eggs, buckwheat pancakes, fruit. Not to mention porridge, bircher and smoothies. The mini one is coming round to the idea of eating in the morning but she is also busy right now, so very very busy. She has just started to stand up and is trying to stand without holding on right now. Every surface needs to be explored and every book shelf needs to be attempted. This means that breakfast for her needs to be quick and for my piece of mind it needs to be nutritionally dense. Every mouthful needs to count.
These breakfast cookies are delicious. I enjoyed one, warm out the oven, baby on one hip, coffee out of short arms reach. They are hearty and naturally sweet. They taste of cinnamon and raisins but with the earthiness of oats.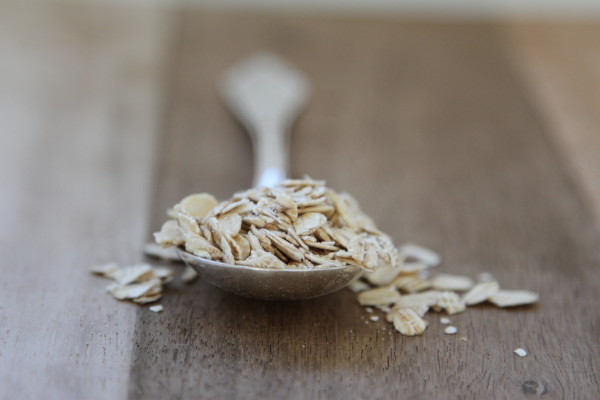 Oats are a great breakfast food, they are easy to digest but they don't raise the blood sugar and provide slow release energy. Cinnamon is naturally sweet which means you can use less sweetener and it also has the added benefit of being a great antioxidant. It can be an allergen so make sure you test first. I made 12 cookies from this batch but you could make smaller 'snack' size version too.
Depending what your little one likes you could add in apricots or dried berries. If nuts are tolerated then you can substitute one cup of oats for 1 cup of ground almonds or fold in some chopped nuts. You could even add desiccated coconut or orange zest. Customize as you fancy but most of all enjoy.
Ingredients (makes 12 large cookies)
2.5 cups oats (plus 2 tbsp for rolling)
2 tbsp maple syrup/date syrup
1 large banana
1 tbsp apple puree
1 tsp cinnamon
1 tbsp olive oil
3 tbsp raisins
Method
Preheat your oven to 170C
Place the banana, olive oil, apple puree & cinnamon into your food processor and blitz till pureed
Add in the oats and raisins and blitz unit you have a thick, sticky dough
Line a baking tray with baking paper
Place 2 tbsp of oats into a shallow dish
Using your hands shape spoonfuls of the dough into balls and roll in the oats
Place onto the lined baking tray
Bake for 30 mins flipping once
Enjoy
http://www.yolandanaturally.com/wp-content/uploads/2016/09/IMG_6431.jpg
3456
5184
Yolanda Neumüller
http://www.yolandanaturally.com/wp-content/uploads/2017/06/Yolanda_New_2015-2.png
Yolanda Neumüller
2016-09-05 11:33:35
2017-07-10 11:23:10
Mama on a Monday - Breakfast cookies