Last nights Great British Bake Off saw the bakers tackle bread. They started with chocolate studded loaves, battled with 'Dampf knodel' (steamed dumplings), before finally tackling braided breads. I considered making dampf knodel as they are pretty popular in this household. Alex normally gets them whenever we head to the Stadtfest in Oldenburg or the Christmas markets. They are a total meal as you get a huge dumpling which is filled with hot cherries and then bathed in custard. Totally delicious.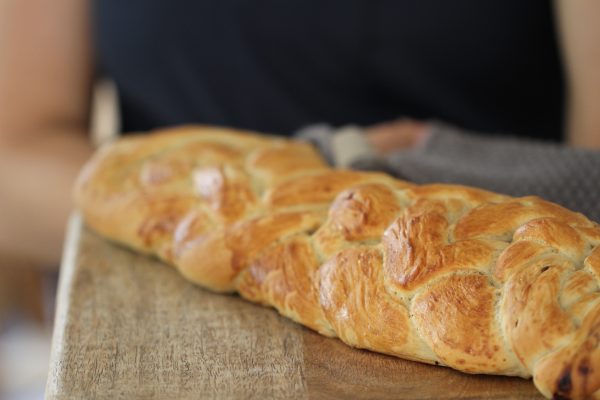 The thing is though, that I felt that I had to tackle the plaited or braided loaf. I am not a very technical baker or cook. I rarely attempt anything that requires exact measurements or that needs you to follow specific guidelines. The only bread I tend to make is soda bread and honestly yeast scares me a little. So, in true bake off spirit I decided to do an 8 strand plaited loaf which would be studded with figs and spiced with cardamon. You could use this recipe as the base for so many breads. You could do cinnamon and raisins buns, muesli studded plaited wreath or a kale pesto braided tear and share.
It is actually really easy to do, and whilst I held my breath every time I checked to see if it had risen, it seems to be a failsafe. I made the dough when the little one got up as she played with wooden spoons, left it in the spare bathroom with the towel rail on a low heat, and came back to it two hours later. I replaced the egg wash with a blend of maple syrup and almond milk but if you are making a savory loaf then I'm sure just the milk would work too.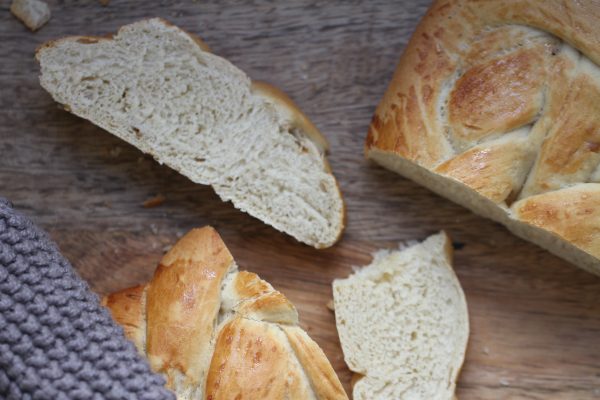 The house smells amazing still, and half the loaf is already gone as Alex is home an has been sitting chomping away, slathering it in local honey. There is officially nothing greater than home baked bread and now I know how to do it, there may be no stopping me…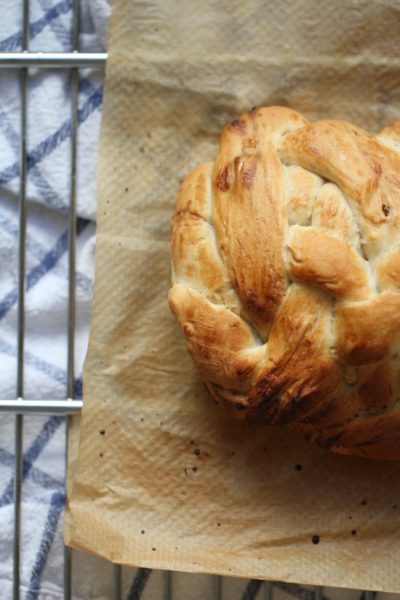 Ingredients
600g strong bread flour (I used a mix of white and spelt)
12g salt
12g instant yeast
35g softened coconut butter (or normal butter)
400ml warmish water
1 tsp almond milk
1 tsp maple syrup
Optional – 3 finely chopped figs, 1 tbsp cardamon
Method
Place the flour into a large bowl, add the butter in chunks
Place the salt on one side of the flour and the yeast on the other (you don't want them to touch)
Add 300ml of the water and stir with a clawed hand to combine
Bring all the ingredients together well adding more water slowly if you need it
Tip onto a very lightly floured surface and knead well for 10 mins
Place into a large oiled bowl, cover with a tea towel and place in a warm spot for up to 2 hours or until it has doubled in size
Remove and knock down, then split it into 8 even portions. If you are adding in items now is the time to do it. Simply add in fruit/chocolate/nuts into each portion
Roll each portion into a long sausage
Place all the sausages in a row and then join the top ones together (so it looks like an octopus with a top and 8 spread out legs)
Plait the loaf – if you are unsure of how to do it then it is best to google it and follow a video but basically
You take leg 8 over leg 5
2 under 3 and over 8
1 over 4
7 under 6 and over 1 and then repeat till you reach the bottom
Place the dough onto a lined tray and cover loosely and place back into a warm spot for 30mins
Preheat your oven to 210C (fan oven)
Wash the bread with the maple syrup and milk wash
Bake for 30mins or until it sounds hollow when the bottom is tapped
http://www.yolandanaturally.com/wp-content/uploads/2016/09/IMG_6708.jpg
3456
5184
Yolanda Neumüller
http://www.yolandanaturally.com/wp-content/uploads/2017/06/Yolanda_New_2015-2.png
Yolanda Neumüller
2016-09-08 11:17:58
2017-07-10 11:19:44
YNBO - Fig and cardamon braided vegan loaf