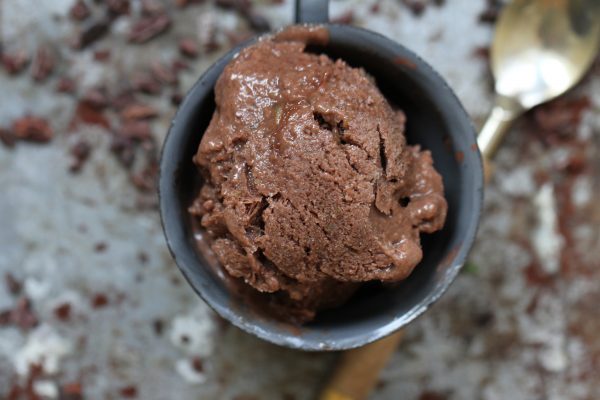 Today I came to the conclusion that I do like almond butter, as long as it is mixed with dates, chocolate & coconut milk and then frozen. Basically I like it if it is turned into icecream!
I've never been able to get on the almond butter train till now, or the peanut butter train…and whilst I'm confessing I also don't like avocados or plain coconut water or bullet proof coffee. I know they are all "superfoods" but in my mind, if they aren't super for me, then they aren't a super food.
Almond butter has, despite my aversion, often found its way into recipes. It works wonders in a dressing for Asian inspired salads or noodle dishes and it's great in cookie dough as it yields a chewy consistency. I thought about trying it as an icecream ingredient because it's high natural fat content makes it ideal for freezing as it will set but not rock solid.
This simple 7 ingredient ice cream is vegan, refined sugar free & also no churn, (because who needs another piece of kitchen equipment). I used almond butter and cacao but you could use peanut butter or maybe even seed butter if you are a nut free kitchen, you can even leave the nut butter out totally & sub in another milk. Instead of cocoa you could add in espresso and you can add in things too like cacao nibs or chocolate chips or freeze dried berries and chopped nuts.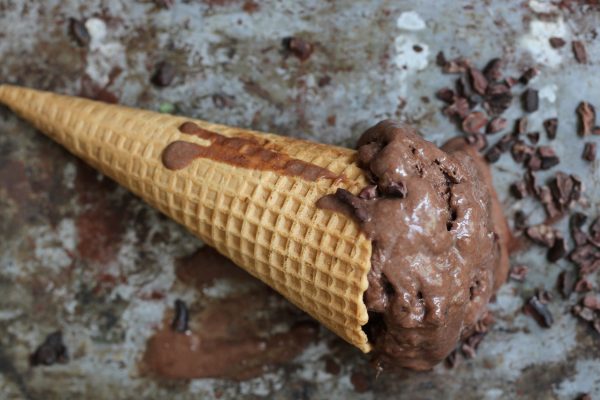 We just put decking down in the garden and it's been blissful to sit outside in the evening sun & eat icecream. It's also surprising what a huge difference it makes to have icecream cones!!! Seriously an icecream at home game changer.
Next on the list is definitely homemade icecream cones….maybe with buckwheat flour? But I'm also currently obsessed with baked donuts so who knows what will be next out the kitchen
Ingredients
2 cans coconut milk chilled in the fridge overnight
16 dates pitted
80g raw/unsweetened cocoa
1 tsp pure vanilla extract
40ml unsweetened almond milk
4 tbsp almond butter
1 tbsp cinnamon
Method
Place the dates into hot water & leave to soak for 10mins until soft
Drain & then place into a food processor
Process until you have finely chopped dates then add in warm water until a thick paste forms
Open the coconut milk & with a spoon remove the solid top "cream" and place into a mixing bowl
Add in the rest of the ingredients including the date paste
Blend or mix well until all ingredients are well combined (easier with an electric blender)
Pour into a shallow dish & place into the freezer
Freeze overnight
Remove 15 mins before serving
http://www.yolandanaturally.com/wp-content/uploads/2016/07/IMG_5017.jpg
3456
5184
Yolanda Neumüller
http://www.yolandanaturally.com/wp-content/uploads/2017/06/Yolanda_New_2015-2.png
Yolanda Neumüller
2016-08-01 11:40:12
2017-07-04 18:53:59
No churn chocolate and almond icecream