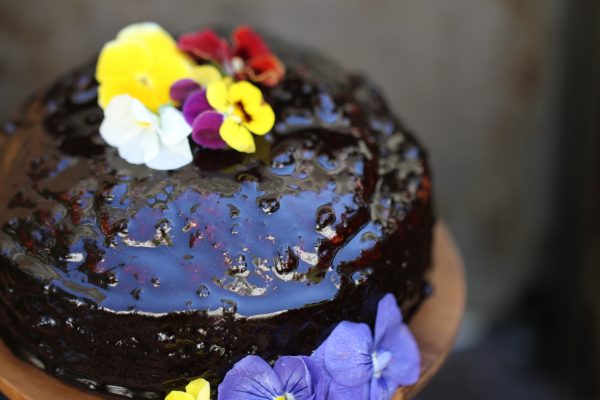 Did you watch it? You know what I'm talking about right…. The magic that is Great British Bake Off is back and I for one could not be happier. Obviously I already have my favourite: Benjamina but I've got a soft spot for Val. I spent the entire hour glued to the show, looking away only to text my Aunty & sister who were also watching. Last night we had the joys of drizzle cake, Jaffa cakes & of course a genoise sponge with a mirror glaze as the show stopper. I have two things to say – firstly who bakes Jaffa cakes???? And secondly I have decided to enter the GBBO this year, or rather I have decided to set myself the challenge of baking a plant based healthier version of the show stopper for you each Thursday.
Welcome to YNBO – Yolanda's Natural Bake Off
This morning was a little bit stressful. Genoise sponge is a type of sponge that doesn't use a raising agent. To get volume you whip up egg whites and sugar. When you set yourself the challenge of plant based it means no eggs and you have to think hard about alternatives. In my panic I turned to chickpeas, no seriously, this cake uses chickpeas.
I had heard about chefs using Aqua faba as an alternative to egg whites when making meringue. Aqua faba is the water in a tin of chickpeas. This unassuming liquid is magic and despite the fact that I had to whip it by hand (bicep ache!!), it really did allow me to make an egg less sponge.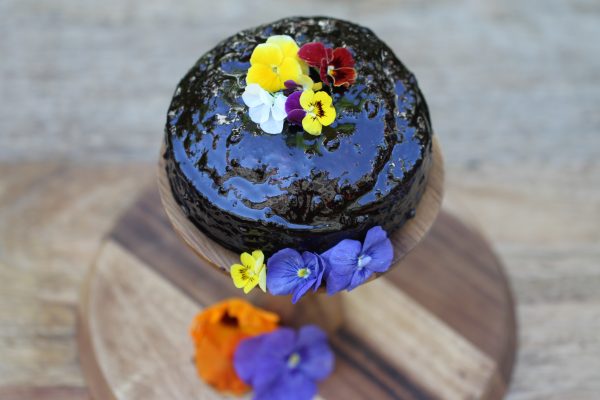 For the mirror glaze you traditionally use gelatin to give it the shine and so I crossed my fingers and used agar-agar. My cake is certainly not super smooth and polished but if you want yours to be, you can either cover it first in a cream and then allow it to chill before glazing or you can trim the top of the cake to get a perfectly flat surface.
This cake is two very simple flavors but you could get creative. Pistachio & lemon cake or orange & rose water would be delicious. You could also infuse your cream in the glaze with rooibos tea, ginger or elderflower.
I have no idea what is coming up each week or even if I will manage to recreate a plant based version each Thursday….but for now here is my (chickpea) vegan genoise with a chocolate mirror glaze.
Ingredients – makes one 6inch sponge
2/3 cup chickpea water
3/4 cup raw unrefined sugar
1 cup plain flour
1/4 coconut or rapeseed oil
Method
Place the sugar and chickpea water into a large clean bowl
Whisk together until the mixture thickens & can form soft peaks
Gently fold in the oil & then slowly fold in the sifted flour
Place into a greased cake tin & bake for approx 40mins
Leave to cool
Ingredients – chocolate glaze
4 tbsp cocoa
1/2 raw sugar
1/2 oat cream
1/2 cup water
1 serving agar agar dissolved in 1 tbsp water (or according to packet)
Place the cocoa, sugar, cream & water into a pan
Heat gently, whilst stirring till the mixture thickens
Remove from the heat & add in the agar-agar
Stir well to dissolve
Allow to cool & then pour over the cool cake
Decorate & enjoy
http://www.yolandanaturally.com/wp-content/uploads/2016/08/IMG_6074.jpg
3456
5184
Yolanda Neumüller
http://www.yolandanaturally.com/wp-content/uploads/2017/06/Yolanda_New_2015-2.png
Yolanda Neumüller
2016-08-25 11:54:08
2017-07-10 13:35:55
YNBO Vegan genoise cake with a chocolate glaze