What I love about Germany is that they really celebrate seasonal food. During white asparagus season little stalls pop up everywhere. Trays and trays of white asparagus are brought out each morning and are gone by the afternoon. The stalls are often little more than a road side table and carry only the prized white stalks and occasionally a packet of Hollandaise sauce and the odd homemade jar of jam. As strawberry season arrives, the stalls make room for the berries and then they seem to disappear until the next year. Here, close to the Alps, mushroom season is a huge deal and the first of the chanterelles have just started to appear. Kale is only around after the first frost but before the ground thaws.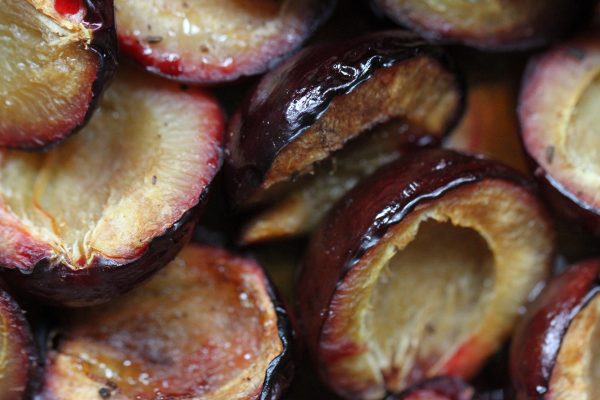 Being that Germans love cake you can also follow the seasonal foods via what cake is in the bakery windows. Right now it is damson cake. Up north this is called 'Zwetschen (damson) Kuchen (cake)' but down here is 'Zwetschgendatshi'. In Bavarian the word datshi means to squish. Traditionally when you make this cake you squish the damsons onto the cake base to allow the juice to soak in before baking. I buy this cake a lot just to sit and eat the roasted damsons off the top (the dog gets the cake base…which isn't helping his diet). Damsons are in season now and at their most delicious but you could replicate this cake with greengages or plums. In a few weeks the damsons will be gone and in their place will be apricots (at the stalls and the bakery) and then come apples. I really appreciate that local seasonal food is embraced and enjoyed. And also that it then disappears until the next year when once again its arrival is celebrated with much fanfare.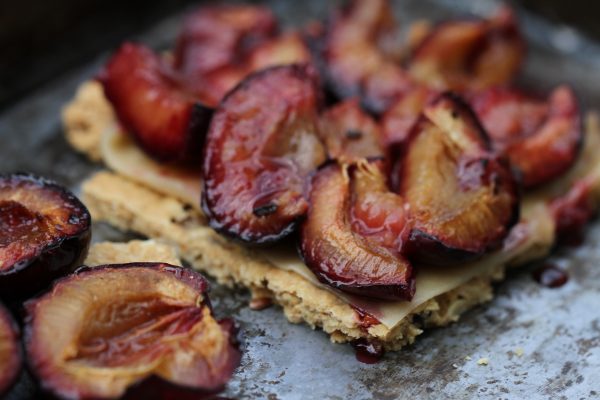 When my good friend arrived at my doorstep with a huge punnet of damsons from her Aunty's garden I knew that I wanted to try and replicate this delicious cake. You could layer it onto a thinly baked sponge, but keep the marzipan as it stops the cake from getting too soft. As with all things, this cake is best shared and even better enjoyed with a cup of coffee and a good chat.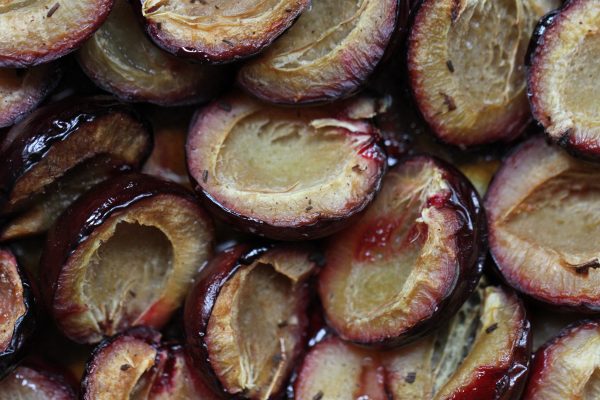 Ingredients (base)
2 cup rolled oats
1/2 cup honey
1 tsp cinnamon
1 tsp cardamon
1/2 cup coconut oil
1/4 plain flour
Method
Place the oats and flour into a blender and blend until the oats are finely chopped
Add in the spices and oil blend briefly
Add in the honey and blend until you have a thick sticky ball of dough
Place the dough onto a piece of baking paper and place a second sheet on top
Roll out the dough between the paper sheets into a rectangle until it is approx 2cm thick
Bake for 12-15 minutes
Once almost cool cut into 4 rectangles
Ingredients (Marzipan)
100g ground almonds
2tsp maple syrup
1 tsp rose water
Method
Combine all the ingredients in a blender and mix until you have a dough
Roll out on baking paper into a thin layer and cut into rectangles to fit onto the base rectangles
Place onto the biscuit base whilst the base is still slightly warm and allow to melt
Ingredients (damsons)
14 – 16 damson (halved and de stoned)
2 tbsp water
Method
Place the damsons cut side up into a baking dish with the water
Roast for 30 mins until soft
Allow to cool then layer onto the base
Enjoy
http://www.yolandanaturally.com/wp-content/uploads/2016/08/Datschi5.jpg
3456
5184
Yolanda Neumüller
http://www.yolandanaturally.com/wp-content/uploads/2017/06/Yolanda_New_2015-2.png
Yolanda Neumüller
2016-08-26 19:37:02
2017-07-13 10:43:20
German damson cake