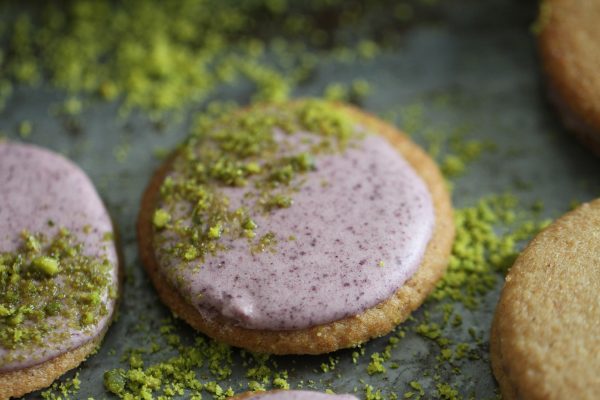 Thank goodness I keep a stash of chickpeas in the cupboard because once again GBBO and the show stopper has me reaching for aqua faba. This week saw the contestants making standing constructions, viennese biscuits and practicing their icing skills. To be honest, I am not much of a biscuit girl but I loved last nights show and it makes me want to up my gingerbread house game this winter! I thought I would combine two challenges and give you a vegan cinnamon biscuit with a beautiful plant based icing. You could easily use this biscuit to make a house or other construction as it is a hard biscuit that holds icing well.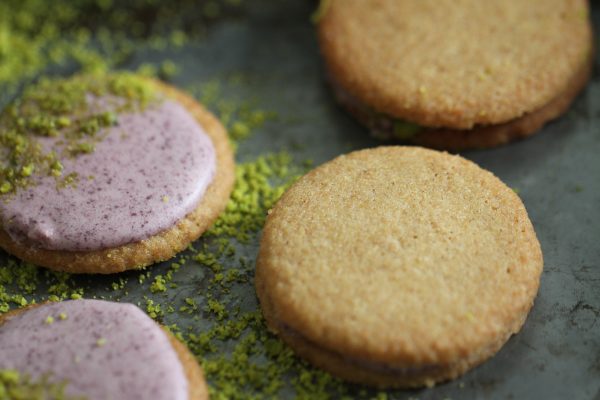 Normal royal icing needs egg whites to help it to set and whilst I am sure that you could try and use a combination of arrow root and corn starch, I figured that chick pea water would do the trick again. I decided to make my own icing sugar using unrefined sugar. Unrefined sugar is still sugar but it retains its naturally present minerals and nutrients such as calcium, phosphorus and iron. It is sold as raw unrefined sugar. Brown sugar is not unrefined unless stated, it is simply refined sugar that has had molasses added to it to give it colour.
For colors you could make a paste (1tsp hot water, 2 tsp ingredient) of: bee pollen (yellow), Acai (Purple), Beetroot powder (red/pink), matcha (green). To colour my icing i used 1 tbsp of acai powder to get a speckled purple. In order to get icing thick enough to pipe the easiest test is to run a knife through the icing in the bowl. It should take 15 seconds for the line to cover up again. For thinner icing (to flood/colour in an area) the same test can be done but it should take around 10 seconds for the line to close.
These cinnamon biscuits are crunchy and light. They hold the icing without getting soggy and they have a warming aftertaste to them. I topped the icing with ground pistachios but you could decorate with icing, chopped nuts or edible flowers.
Ingredients-Icing (for approx 40 biscuits)
60ml aqua faba
240g icing sugar
1 tsp rose water (or vanilla)
(1 tsp juice or 1 tbsp powder to dye)
Method
Place the aqua faba into a bowl and whisk until it becomes frothy
Add in the rose water and the sugar and whisk carefully until fully combined
Place into the fridge to set for 1.5 hours
Stir in colorings as desired
Ingredients – Cinnamon biscuits (approx 40)
150g self raising flour
150g plain flour
2 tsp cinnamon
100g coconut oil or 125g butter
1 flax egg or 1 egg
100g unrefined sugar
Method
Preheat your oven to 160C
Combine all the ingredients & mix into a firm dough
Roll the dough out between two sheets of baking paper to a 1cm thickness
Cut out and place onto a baking sheet
Bake for 10-12 minutes
Cool on a baking rack before icing
http://www.yolandanaturally.com/wp-content/uploads/2016/09/IMG_6334.jpg
3456
5184
Yolanda Neumüller
http://www.yolandanaturally.com/wp-content/uploads/2017/06/Yolanda_New_2015-2.png
Yolanda Neumüller
2016-09-01 10:53:35
2017-07-10 11:24:08
YNBO rosewater and pistachio vegan iced biscuits